Jim Garrett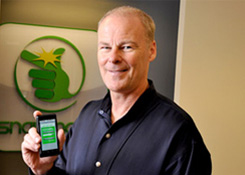 Chairman and CEO
Snapfinger.com
Jim Garrett founded Kudzu Interactive in 2004 and developed the web-based ordering platform that has become the restaurant industry's standard for online, mobile and call center remote ordering applications. In 2009, with the largest online ordering platform in place, Jim launched the Snapfinger online search and ordering portal. Today, Snapfinger.com is the only nationwide food ordering website giving hungry consumers access to more than 28,000 restaurants in over 2,200 cities across the United States. In October 2009, Garrett expanded Snapfinger to the mobile platform where it is now available as a free app for iPhone, Android and other smartphones.
Prior to founding Kudzu Interactive, Garrett is largely credited as a pioneer of the Internet banking industry and online marketing financial services. His accomplishments include engineering the leveraged buyout and developing the growth strategy behind Servantis and Response Marketing Group. Servantis became the leading provider of online banking and bill payment technology and was sold to CheckFree Corporation in 1994, while Response rose to the forefront of direct response financial marketing services and was sold to Snyder Communications in 1999.
Garrett began his career in the communication industry with Scientific Atlanta and GTE. He received his Bachelor of Arts degree from the University of Georgia and his MBA from Georgia State.